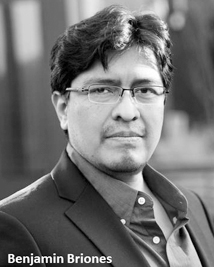 Benjamin Briones
Artistic Director and Resident Choreographer
Born in Mexico City, Benjamin Briones, Director and Founder of Benjamin Briones Ballet and Resident Choreographer, graduated from The National School of Classical Ballet, The National School of Contemporary Dance and The Royal Academy of Dancing. His eclectic educational background includes training in Cuban and Royal Ballet styles, as well as the study of Graham, Cunningham, Limon and Francis modern dance. He is a former Soloist at Ballet El Paso, Ballet Austin, Connecticut Ballet, Ohio Ballet and Ballet Theater of Annapolis. Briones' many works include Si Senior, Amour Nuovo, In Between, Ripples, Lights On, I Will Always Love You and Seven.
After retiring as a dancer in 2006, Briones was appointed as Ballet Master at The Staten Island Ballet from 2006-2009, where he also began his choreographic career serving as Resident Choreographer. He was also appointed as a Resident Choreographer at Ajkun Ballet Theatre (New York), which culminated in the founding of the company in 2012.
Briones is dedicated to teaching dance as the highest art form, he does so extensively throughout New York City, including prestigious dance schools such as: Alvin Ailey, Steps on Broadway, Peridance, The Joffrey Ballet School, Mark Morris Dance Group and Ballet Arts Center for Dance. Briones regularly teaches internationally at Centro de Arte y Ballet and UAEM University in Mexico City. Immersed in the art of dance, Briones' passion is dedicated to giving back to the community, especially to those who seek a way into the dance world looking for an artistic escape. Benjamin and Executive Director Chiara are partners and co-founders of Spindle, an online dance school bringing Master Teachers of dance to the world.